---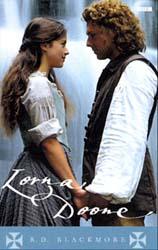 Soundtrack News!!--Ok everyone, Amanda here, it looks like we need to try this again. We were told quite a while ago that a soundtrack would be released, but I think we need to show BBC and A&E that we are still waiting and we will not back down. Thankfully, Charity's instructions on how to go about this are still below. Again, on an off note, I thank Charity so much for all the work that she did on this whole site and for passing it onto me. So, let's try and get that soundtrack! Oh, and please send an e-mail my way too at classictributes@angelfire.com to let me know that you did!
The Soundtrack Campaign
Let's face it. We all love -- no adore -- the soundtrack to A&E's Lorna Doone. The problem is, there is no album available for us to purchase, no way in which to carry the music with us! So what are we going to do about it? We're going to fight for one! We members of the Lorna Doone Discussion Group have started a protest. Please join us... and watch the results. If we stick together and demand to be heard, they will take notice. For every one person that writes in, they'll figure six lazy people didn't. So if a hundred of us write in, we've got it in the bag.
How can you help?
It's simple. Send an e-mail to the BBC Productions studios praising the film Lorna Doone and expressing your disappointment that there is no soundtrack. Do the same at the A&E Feedback Forms. (Visit www.aande.com and go to the foot of the page... there you'll see a link that says "feedback." Choose "General" since Lorna Doone is not listed and let 'em have it.)
Write something along these links (but make it unique!)
"I just wanted to commend you on your recent production of "Lorna Doone" starring Amelia Warner, Richard Coyle, and Adian Gillen. I much admire A&E" (or BBC) "for making a film that I can actually watch with my family without one hand poised over the remote. Everything about Lorna Doone is worthy of praise and I hope that future releases will have the same magic caliber.
However, I am disappointed that there is no soundtrack album to accompany this film. The music is absolutely gorgeous... a blend of Celtic and Scottish ballads that replay through my mind at will. Please at least *consider* releasing the soundtrack! I can guarantee that you would sell a mint of them. All the best wishes..."
Where to write:
The BBC at: VLC@bbc.co.uk, and POV@bbc.co.uk
Response:
You should get a commercial e-mail within forty-eight hours that runs along the lines of this:
(BBC's Reply)
Dear Charity

Thank you for your e-mail regarding 'Lorna Doone'. Please accept my apologies for the delay in replying. We know our correspondents appreciate a quick response and I am sorry that you have had to wait so long on this occasion.

I am pleased to read that you enjoyed the programme so much. Please be assured that I have registered your comments for the attention of the production team, whom I am sure will appreciate them. I have also noted your interest in seeing the soundtrack released commercially. Viewer feedback of this nature is essential to the BBC to ensure that we produce programmes which we know our audience will find interesting, and it is even more rewarding when this feedback is as positive as your own.

Thank you again for taking the time to contact us and I hope you continue to enjoy BBC programmes.

Regards

Stewart McCullough
BBC Information
(A&E's Reply)
Dear Charity,


Thank you for your recent comments concerning the soundtrack for the A&E movie LORNA DOONE. It is important to us to receive feedback from our viewers, and we appreciate your taking the time to write to us.

Cordially,
Viewer Relations
---