---

Cast & Crew: Amelia Warner

Dark-eyed, beautiful Amelia Warner plays the spirited and yet compassionate title character in A&E's Lorna Doone, a young woman who has a hidden past, and a brutal life in the wicked realm of Sir Ensor Doone, a notorious leader of the clan of outcasts. Her future is certain - she is to marry her treacherous cousin, Carver (Adian Gillen), and she does not question it... until the mysterious and dashing John Ridd comes into her life...

Placing a passion into the role (which she has envisioned since childhood), the screen literally comes alive whenever Amelia steps into the scene. On her character, she has this to say: (Courtesy of A&E)

"Let's face it, if R.D. Blackmore's Victorian heroine Lorna Doone was alive today, she would be a suitable case for treatment. Can you imagine it? Broken home, father dead, constantly fending off her sleazy cousin… she would have to be in counseling."

Amelia did not take her mother, actress Annette Ekblom's counsel. She never wanted her daughter to get into acting. But she's had a rethink since Amelia won the title role in "Lorna Doone."

"It was my mother's favorite book and she gave me a children's version when I was very young," says Amelia. "I don't think I read it, but I do remember seeing the picture of Lorna, this amazing, cool woman, on the front cover. She was wearing a scarlet dress, her hair blowing in the wind."

While paying tribute to the story, Amelia is absolutely delighted that Adrian Hodges, who adapted the novel, has put a bit more psychological grit and realism into the famous Victorian-style heroine that generations of schoolgirls have been brought up to admire.



"In the book she is on a pedestal, this divine creature who does no wrong. When I read the book, I was a bit wary at having to play this rather serious, straight character. But the scripts bring out the feisty in her. She's now a really modern character. Some of that feistiness comes from her having to fight for things herself. She doesn't do all she's supposed to do. She's not a rebel or difficult, but she has a strong sense of right and wrong. She won't sacrifice her morals, but she's also got a vulnerable side."

Amelia enjoyed being a part of the emotional triangle opposite Richard Coyle as John Ridd and Aidan Gillen as Carver Doone.

"Aidan's so sinister and yet so clever about it. I like the way he's played Carver because you can feel sorry for him. You do sympathize with him. He's not just a baddie."

And Richard and Amelia had plenty of laughs on location. One scene called for Lorna to talk to John Ridd while standing in a river and then to hurry away.

"We were doing the scene and I could feel myself sinking into the mud. I'm thinking: 'I'm not going to be able to leave.' I start treading to bring myself up and Richard obviously sees this and wonders what I'm doing. When the moment came for me to leave, I just couldn't. There's the director indicating for me to leave but I couldn't. I finally fell flat on my face in the mud!"

One of Amelia's regrets was not being allowed to do some hard riding in the Brecon Beacons. But the ground was just too dangerous. "I was really looking forward to doing the riding with my hair flying in the wind. But they got doubles. I just mounted and dismounted and walked. Mind you, it's a lot harder to get a horse to stand still than make it run across the fields."

Amelia says it's funny how many people think that Lorna Doone was a real person. "People keep saying: 'You look exactly like her!' But she's not real. She's a character in a book. People do have a vivid picture of what she looks like. It's that image of long dark hair and dark eyes."

Amelia never really decided to be an actress. It just happened. "I was a member of youth theaters and was always in school plays. I loved it. Then you leave school and you think: 'Oh dear, I'm never going to do a play again. I can't have that.'"

Her professional credits include her debut in an America television film of Don Quixote with Bob Hoskins, roles in Casualty and The Aristocrats, and playing the kidnapped schoolgirl in the recent BBC ONE drama Waking The Dead. She has just collected three good A-level grades and is planning to go to Goldsmith's College in London to study art history, but she expects to continue acting through her university years.
---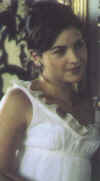 With her unwavering gaze, determined jaw, thick dark hair (and lots of it), Amelia Warner might have been designed to play the feisty heroines of romantic swashbucklers. It wasn't too surprising then, to have seen her swishing across the screen as the eponymous heroine in BBC1's action-packed frock-romp Lorna Doone. For an 18-year-old thespian who, until a few years ago, 'was determined not to be an actress' it marks the beginning of a career-breaking year.
The single child of actress Annette Ekblom, Warner learnt independence from a very early age after her parents split up shortly after her birth. Raised by her mother, she often found herself hanging around in stage dressing rooms and television studios. "It was me and her against the world. It must in some ways have influenced me about acting."
Should the acting thing not work out, she'll return to her original dream of "opening a little gallery in Portobello Road." To this end, a trio of ace A-levels has secured a place at Goldsmiths' to study History Of Art. With luck and a fair wind, the lecturers will have to struggle on without her for some time to come. Move over, Helena Bonham Carter, there's a new bodice in town." - This is London
"Bodice-ripping period drama is the name of the game this time of year and BBC's Lorna Doone looks to fit the bill. Beginning on Christmas Eve and concluding on Boxing Day, this two-part dramatisation of RD Blackmore's 17th century romantic drama stars Amelia Warner in the title role. Set in the 1860s, the plot revolves around sneaky aristocrats, honest peasants and one man's lust for another man's betrothed. Smashing." - This is London
---
films:
Lorna Doone (2000) (TV) .... Lorna Doone
Take a Girl Like You (2000) (TV) .... Sheila Torkingham
Waking the Dead (2000) (TV) .... Kelly Caldwell
Quills (2000) .... Simone
Don Quixote (2000) (TV) .... Antonia
Mansfield Park (1999) .... Teenage Fanny
Aristocrats (1999) (mini) TV Series .... Lady Cecelia
---